Make life easier with a Dainty Bean Handmade mommy clutch!
Life is hectic, keep it simple! You need a Dainty Bean Handmade mommy clutch on your holiday wish list this year. In fact, you need multiple! Mommy clutches are essential when you have small children and are limited on time, especially during the busy holiday season. We recommend keeping organized with a few different designs (and colors) that each serve a specific purpose: use one for your key essentials; one for your makeup essentials; and another for your children's items.
Dainty Bean Handmade Founder Sarah began her business 3 years ago, just after her daughter was born with this in mind. With a passion for sewing and design, she found a way to help other moms keep organized and form an ethical, handmade business.
Products to add to your holiday wishlist:
A stylish, functional, versatile clutch for moms and women everywhere. Measuring just 7×10 inches, this little clutch has it all: 8 roomy card pockets; a pocket for cash; a zippered pocket to hold coins; and a pocket to hold your phone or receipts. The mommy clutch was created to keep all of your essentials organized without the bulk so that you can easily throw the clutch into a purse or diaper bag. Or you could grab the clutch quickly on the go for errands (and ditch that bulky purse)!
Gray Arrow Backpack Diaper Bag:
This bag is the ultimate mommy bag, with tons of exterior and interior pockets, there is a spot for everything you need. Whether you want a cross body bag, shoulder bag or backpack, the Gray Arrow Diaper Bag is extremely versatile. The cell phone and key pockets make it easy for you to find your necessities. There are 4 large elastic pockets, 2 smaller side pockets inside and 2 more pockets in the zip out flap. Handmade with home decor weight fabric and reinforced with several layers of interfacing, this extra sturdy bag is perfect for any mom on the go.
Handmade
$140.00 USD
Ships worldwide from Washington, United States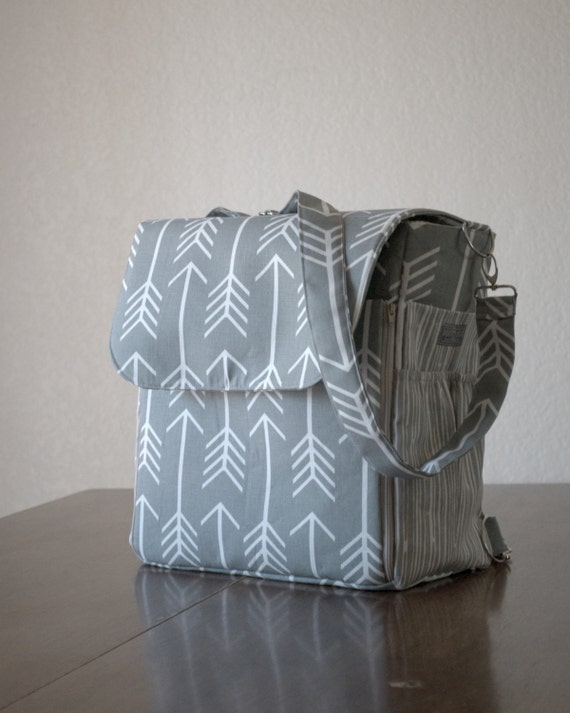 Lets be honest, there is nothing better then being organized when you are a mom on the go, and these bags are a staple in achieving organization while being fashionable!
Check out the social media links below and shop Daintybean Handmade online: 
Summary
This clutch is essential for women everywhere. Its functional and made from stylish, current designs.